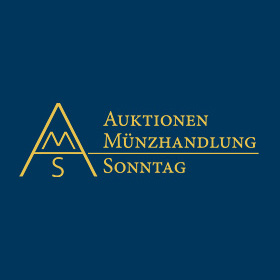 Ancient, German and World Coins and Medals
Part 1: Mo, 06.07.2020, from 01:00 PM CEST
Part 2: Tu, 07.07.2020, from 10:00 AM CEST

The auction is closed.
Due to the current pandemic situation we will conduct our auction 32 on July 6th and 7th without public floor!
Description
Merowinger. Anonym
Tremissis (im Namen des Justinianus I. 527-565). D N IVSTINIANVS P AVG. Drapiertes Brustbild mit Diadem nach rechts / +VICTORIA AGV. Victoria mit Palmzweig und Kranz nach rechts schreitend, rechts im Feld ein Stern. MEC -, MIB -. vgl. H.-U. Geiger (Die merowingische Münze in der Schweiz) in SNR 58 (1979) S. 115 Nr. 164.1,40 g
äußerst selten, winzige Druckstellen, minimaler oberflächlicher Riss auf der Rückseite, vorzüglich
Das bei Geiger zitierte, sehr ähnliche Stück wurde bei Chur gefunden und ist leider verschollen, so dass davon nur eine Zeichnung bekannt ist. Zu einem weiteren, ebenfalls sehr ähnlichen Stück vgl. Auktion Künker 277 (2016), Nr. 173. Eine Zuweisung an die Merowinger erscheint am wahrscheinlichsten.
Bidding
| | |
| --- | --- |
| Price realized | 2'600 EUR |
| Starting price | 2'250 EUR |
| Estimate | 2'500 EUR |
The auction is closed.