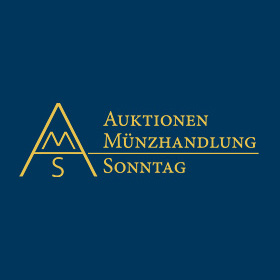 Ancient, German and World Coins and Medals
Part 1: Mo, 06.07.2020, from 01:00 PM CEST
Part 2: Tu, 07.07.2020, from 10:00 AM CEST

Pre bids are accepted until:
Part 1: Su, 05.07.2020, until 05:00 PM CEST
Part 2: Su, 05.07.2020, until 05:00 PM CEST

Due to the current pandemic situation we will conduct our auction 32 on July 6th and 7th without public floor!
Description
Kaiserzeit. Valentinianus I. 364-375
Solidus 364/367 -Antiochia-. D N VALENTINIANVS P F AVG. Drapierte und gepanzerte Büste mit Rosettendiadem und Paludament nach rechts / RESTITVTOR REIPVBLICAE. Kaiser im Panzer mit großem Umhang mit Labarum und Victoriola von vorn stehend mit nach rechts gewandtem Kopf. Links im Feld ein Kreuz, im Abschnitt die Münzstättenbezeichnung. RIC 2b. 3,92 g
leichte Kratzer sowie Druckstellen im Randbereich, sehr schön
Aus süddeutscher Privatsammlung, erworben vor 1970.
Bidding
| | |
| --- | --- |
| Starting price | 360 EUR |
| Estimate | 400 EUR |
Bid live
6 Jul. 2020, from 01:00 PM CEST