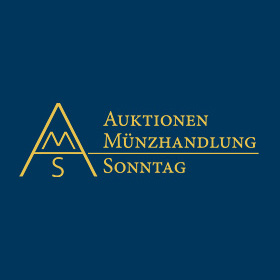 Ancient, German and World Coins and Medals
Part 1: Mo, 06.07.2020, from 01:00 PM CEST
Part 2: Tu, 07.07.2020, from 10:00 AM CEST

Pre bids are accepted until:
Part 1: Su, 05.07.2020, until 05:00 PM CEST
Part 2: Su, 05.07.2020, until 05:00 PM CEST

Due to the current pandemic situation we will conduct our auction 32 on July 6th and 7th without public floor!
Description
Kaiserzeit. Jovianus 363-364
Solidus 363/364 -Antiochia-. D N IOVIANVS P F P AVG. Drapierte Panzerbüste mit Perldiadem nach rechts / SECVRITAS REIPVBLICAE. Behelmte Roma mit Labarum sowie Constan­tinopolis mit Krone und Zepter -ihren rechten Fuß auf einer Prora gestützt- sitzen einander gegenüber mit hersehenden Köpfen und halten gemeinsam einen Schild, darauf "VOT/V/MVL/X". Im Abschnitt die Münzstättenbezeichnung. RIC 224. 4,23 g
leichte Feilspuren am Rand, gutes sehr schön
Aus süddeutscher Privatsammlung, erworben vor 1970.
Bidding
| | |
| --- | --- |
| Starting price | 900 EUR |
| Estimate | 1'000 EUR |
Bid live
6 Jul. 2020, from 01:00 PM CEST