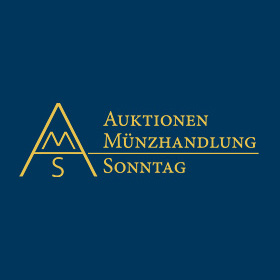 Ancient, German and World Coins and Medals
Part 1: Mo, 06.07.2020, from 01:00 PM CEST
Part 2: Tu, 07.07.2020, from 10:00 AM CEST

Pre bids are accepted until:
Part 1: Su, 05.07.2020, until 05:00 PM CEST
Part 2: Su, 05.07.2020, until 05:00 PM CEST

Due to the current pandemic situation we will conduct our auction 32 on July 6th and 7th without public floor!
Description
Kaiserzeit. Nero Claudius Drusus †9, Bruder des Tiberius
Aureus (posthum geprägt unter Claudius) 41/42 -Rom-. NERO CLAVDIVS DRVSVS GERMANICVS IMP. Belorbeerte Büste mit Eichenkranz (corona civica) nach links / Triumphbogen, darauf Reiterstatue des Drusus mit Lanze im Galopp nach rechts zwischen zwei Trophäen mit sitzenden captivi, darunter und auf dem Architrav "DE/GERM". RIC (Claudius) 69, Calicó 315, von Kaenel 58; Münztyp 12,192 (Avers Stempelgleich). 7,75 g
selten, sehr schön
Aus süddeutscher Privatsammlung, erworben vor 1970.
Bidding
| | |
| --- | --- |
| Starting price | 3'600 EUR |
| Estimate | 4'000 EUR |
Bid live
6 Jul. 2020, from 01:00 PM CEST