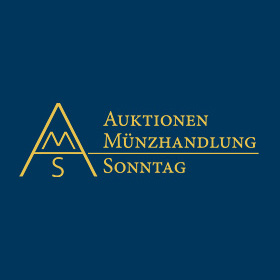 Ancient, German and World Coins and Medals
Part 1: Mo, 06.07.2020, from 01:00 PM CEST
Part 2: Tu, 07.07.2020, from 10:00 AM CEST

Pre bids are accepted until:
Part 1: Su, 05.07.2020, until 05:00 PM CEST
Part 2: Su, 05.07.2020, until 05:00 PM CEST

Due to the current pandemic situation we will conduct our auction 32 on July 6th and 7th without public floor!
Description
Kaiserzeit. Augustus 27 v. Chr. -14 n. Chr
Aureus 15 v. Chr. -Lugdunum-. AVGVSTVS DIVI F. Bloße Büste nach rechts / Augustus auf einem Podium mit Klappstuhl nach links sitzend, vor ihm stehen Drusus und Tiberius (beide im Feldherrnmantel und mit Parazonium) und strecken dem Kaiser je einen großen Lorbeerzweig entgegen, im Abschnitt IMP X. RIC 164a, Calicó 210. 7,72 g
sehr selten, feines Porträt, kleine Kratzer, sehr schön-vorzüglich
Geprägt auf die Eroberung Raetiens durch Drusus und Tiberius im Jahre 15 v.Chr. Aus süddeutscher Privatsammlung, erworben vor 1970.
Bidding
| | |
| --- | --- |
| Starting price | 6'750 EUR |
| Estimate | 7'500 EUR |
Bid live
6 Jul. 2020, from 01:00 PM CEST