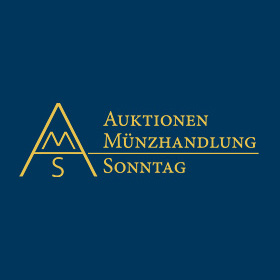 Ancient, German and World Coins and Medals
Part 1: Mo, 06.07.2020, from 01:00 PM CEST
Part 2: Tu, 07.07.2020, from 10:00 AM CEST

The auction is closed.
Due to the current pandemic situation we will conduct our auction 32 on July 6th and 7th without public floor!
Description
Schwarzmeergebiet. Scythia. König Koson ca. 50-25 v. Chr
Goldstater -Olbia-. Magistrat zwischen zwei Liktoren nach links schreitend, davor Monogramm / Adler nach links mit Kranz und Zepter. RPC 1701A. 8,35 g
vorzüglich-prägefrisch
Der Caesar-Mörder Brutus, dessen Monogramm auf der Vorderseite dieser Münze steht, gilt als Verbündeter des Koson, der seinem Freund Hilfe und Unterstützung im Bürgerkrieg gegen Marc Anton und Octavian (Augustus) gab. Mit der Prägung dieser Goldsatere wurde eine Armee finanziert und aufgestellt, die jedoch in der Schlacht bei Philippi (42 v.Chr.) durch römische Truppen unter Marc Anton vernichtend geschlagen wurde. Die beiden Hauptverschwörer begingen Selbstmord, ihre Münzen wurden größtenteils eingezogen und eingeschmolzen.
Bidding
| | |
| --- | --- |
| Price realized | 2'100 EUR |
| Starting price | 900 EUR |
| Estimate | 1'000 EUR |
The auction is closed.