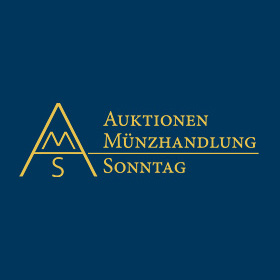 Ancient, German and World Coins and Medals
Part 1: Mo, 06.07.2020, from 01:00 PM CEST
Part 2: Tu, 07.07.2020, from 10:00 AM CEST

Pre bids are accepted until:
Part 1: Su, 05.07.2020, until 05:00 PM CEST
Part 2: Su, 05.07.2020, until 05:00 PM CEST

Due to the current pandemic situation we will conduct our auction 32 on July 6th and 7th without public floor!
Description
Mysia. Könige von Pergamon. Eumenes I. 262-241 v. Chr
Tetradrachme. Büste des Philetairos mit taenienumwickeltem Lorbeerkranz nach rechts / Athena mit Helm und Lanze nach links thronend, einen Schild mit Gorgoneion in der Rechten, als Thronlehne eine Sphinx. Über dem rechten Knie ein Efeublatt, rechts im Feld ein Bogen. SNG v.Aulock 1355. 17,24 g
selten, feine Patina, markantes Porträt in hohem Relief, kleine Kratzer, sehr schön-vorzüglich
Erworben in den 1980er Jahren bei der Münzhandlung Brandt & Sonntag oHG, Stuttgart.
Bidding
| | |
| --- | --- |
| Starting price | 900 EUR |
| Estimate | 1'000 EUR |
Bid live
6 Jul. 2020, from 01:00 PM CEST